Heart of Vegas Slots – My Big Wins and Memorable Moments
Morning my fellow HoV players – thought I'd do something a little different from the typical reviews and write ups that so many players provide about Heart of Vegas and share the more fun side of this free social casino app – the big wins and awesome features I have got whilst playing the game. Keep in mind these are proportionate to the fact I can never afford to bet more than 50k a hit LOL
I ENCOURAGE YOU TO SHARE YOUR BIG WINS AND JACKPOTS – keep in mind these are proportionate to the fact I can never afford to bet more than 50k a hit LOL
So without further ado, please enjoy my biggest wins and most memorable moments whilst playing the free social casino app Heart of Vegas Slots. – Oh and for those who have no idea what I am talking about – fill yourself in on everything by first reading about Aristocrat and Heart of Vegas Slots and then get the low-down on what it is really like to play over at PlayPokies.com.au – Australia's home for Aristocrat Pokies online.
Read Our Full Heart of Vegas Slots App Review
And now allow me to share with you some of my favourite moments and biggest wins from playing Heart of Vegas Slots
My Biggest Heart of Vegas Slots Wins
First image shows a $6million+ win FROM ONLY $12K BET – did this when I got the entire screen filled with WILD coins during the feature – amazing stuff!
Second image shows another awesome win – this time on 5 Dragons – and shortly after the last win – credits at this point were at an all time high of 13million+
Third image is just cool – 5 Dynamite feature symbols at once for a healthy win – but not that healthy cause I ALWAYS CHOOSE THE WORST CHARACTER LOL
*Learn How to pick the right character every time with our Where's The Gold Pokie Guide
Fourth and final image shows my first ever Progressive Jackpot – shortly after this I got 5 Aces 6 times over and the final symbol was a progressive so I actually won the minor $600k jackpot 6 times over!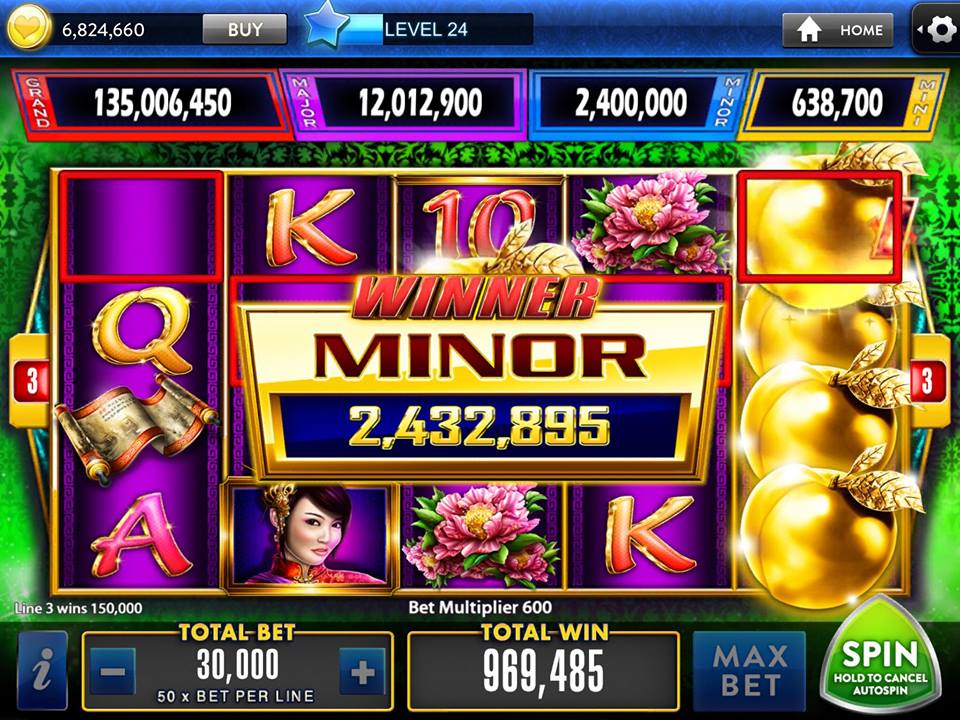 Feel free to share your own big pokie wins and Heart of Vegas awesome moments