One of the things we love about casino gaming is the friends we make along the way. Gambling should be a social activity, enjoyed over beers and along with plenty of good conversation and laughter. Unfortunately, there are a few gamblers who spoil the social experience for everybody. You know who I'm talking about. We've all seen them at least once. Those vegetables in front of the fruit machines, who show no signs of life other than that repetitive action as they pull the lever or press that button over and over (and over) again. Even a jackpot elicits no more than a smile and a nod, and it's back to pulling the lever and/or pushing that button again.*
*Addiction by Design by Natasha Dow Schull
More information is provided in the below resources and links but since it is so intrinsically linked to the above point I wanted to highlight her findings for you here:
Drawing on fifteen years of field research in Las Vegas, anthropologist Natasha Dow Schüll shows how the mechanical rhythm of electronic gambling pulls players into a trancelike state they call the machine zone, in which daily worries, social demands, and even bodily awareness fade away. Once in the zone, gambling addicts play not to win but simply to keep playing, for as long as possible-even at the cost of physical and economic exhaustion. In continuous machine play, gamblers seek to lose themselves while the gambling industry seeks profit. Schüll describes the strategic calculations behind game algorithms and machine ergonomics, casino architecture and ambience management, player tracking and cash access systems-all designed to meet the market's desire for maximum time on device.
Source: http://www.natashadowschull.org/
It appears the vegetable in all of us is just waiting to be exposed by these insidious machines. Just give them enough time…
Play Pokies for Fun – Don't be a Vegetable Playing Fruit Machines
It's easy to blame them for having no willpower, but it's not entirely their fault. Those slot addicts aren't just driven by greed or sloth. They're made that way by machines designed to create addictive impulses and promote destructive behaviour.
As the image to the left shows – the Pokies play you and not the other way around. The sooner you realise this the sooner you stand a chance of beating them once and for all. Visit PokiesPlayYou.org.au to learn more
Psychologists have found that slot addiction starts with over-stimulation of the reward centers in the brain. Ever wondered why slot machines light up and play music the moment you get a single chip back, even if you've lost 99 chips on that bet? Well, all that stimulation can trick your brain into thinking you've won – whether that's true or not. And because all humans crave rewards, our brains start to crave that stimulation and we start to crave the slot machines. That's how the vegetable is born.
Learn more about the various design aspects that combine to create the electronic morphine and crack cocaine of gambling that Poker machines are often referred.
Ka-Ching! Pokie Nation Documentary exposed and copyright laws bypassed with amazing Infographic! Click here to access and share this awesome resource.
Entertainment? More Like Zombie-tainment
While we all gamble to get away from our worries for a little while, vegetables take that to an extreme. Ever notice how pokie addicts ignore you when you speak to them, can't seem to make eye contact and are basically the most socially awkward people on Earth? That's because they aren't inhabiting the same world as you and I – not mentally, anyway. Psychologists have found that the escapist element of slot machines contributes heavily to its addictive potential – especially since it's enhanced by fantastical game plots and otherworldly visuals. When vegetables give themselves over to the pokie world, real-world responsibilities like jobs and family, and real-world interactions, become alien to them.
Conclusion and Take Away
So if there's a lesson in all of this, it's that pokies and slot machines are to be treated with great caution. If you can, play online, where you're free from the environment of the casino floor where the absence of windows and clocks combines with the positive reinforcing sounds from so many machines encourages you to play longer and harder than you might normally.
Playing online pokies might not necessarily be the best answer but for the thousands of us who enjoy a poke from time to time and can happily take it or leave it, the online option provides a much safer and more enjoyable gambling experience.
Jump over to any of our recommend online casinos and check out the incredible range of free and real money pokies and casino games and find out why so many of your neighbours have already made the switch.
You may not be convinced but at the end of the day it comes down to the simple facts:-
Noone wants to talk to a Vegetable playing a Fruit Machine
– and you most definitely cannot win friends with salad!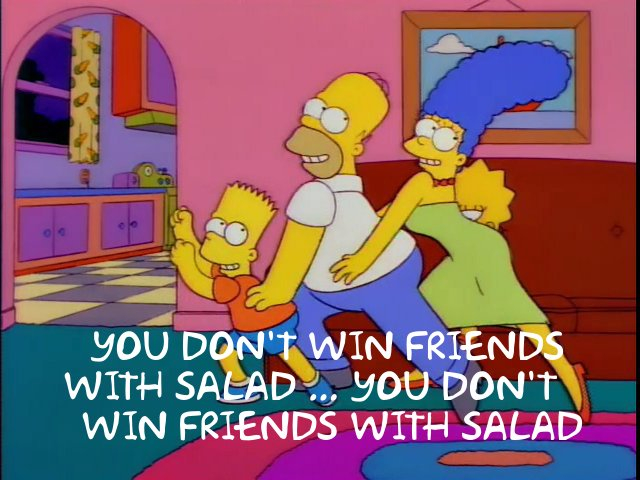 It's just a fact is all.